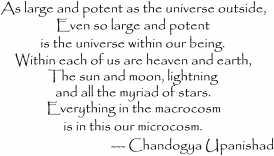 Temple of the Goddess' vision includes an Alternative Health and Healing Center (AHH) which will manifest in 2007 and 2008. If you are a complementary and alternative health worker or administrator and would like to become a part of this evolving health concern, please contact us at AHH@TempleoftheGoddess.org.
NOTE: A major objection to alternative medicine is that it has been done in place of conventional medical treatment, however, as long as complementary and alternative health treatments are used in tandem with conventional medical care, most professional medical doctors find that most all types of alternative medicines are acceptable. (Vickers 2004) As a matter of fact, there is a growing number of medical doctors who are using standard medical treatment in conjunction with alternative health care modalities. Consistent with previous studies, the CDC recently reported in their May 27, 2004 Advance Data Report from Vital and Health Statistics that the majority of adults in the United States (54.9%) used CAM (Complementary and Alternative Medicine) in conjunction with conventional medicine. (CDC Advance Data Report #343, 2002) http://nccam.nih.gov/news/report.pdf
If you are a CAM practitioner and would like to list your services with AHH, please write us at AHH@TempleoftheGoddess.org.