We Remember . . .
Laura Janesdaughter
This is dedicated to my sister, friend, mentor, and elder, Laura Janesdaughter, who crossed the veil on May 27th, 2013 to rest in the arms of her beloved Isis.
Laura ordained me into the Temple of Isis in 1997 and our first beach ritual in 1994 was the first goddess ritual that I could include my son, Zachary Tatum-Nolan and his father Roger Nolan. This event was deeply influential in my vision to create Temple of the Goddess as a spiritual organization to include boys, men, and families.
Even today, one of the highlights for me, at our temple ritual Sabbats is seeing the families . . . the men and boys who have found a place in the lap of the Mother.
There are two events scheduled to honor the life of our dear sister, a Life Celebration and Memorial Service will be held on Saturday, October 5, 2013 7:30 p.m., and a beautiful Isis beach ritual on Sunday morning October 6th at 9:30 a.m. Please see below for location and details. Many dear Goddess sisters are coming from all parts of the country to celebrate Laura's life. Please join us for either, or both, of these gatherings.
My love and blessings to you all, Rev. Xia
Founder & Director, Temple of the Goddess
To read more about Laura, click here.
~ ~ ~ ~ ~ ~ ~ ~ ~ ~ ~ ~ ~ ~ ~ ~ ~
Melton Haslett Clark
by Jeanne Leiter Clark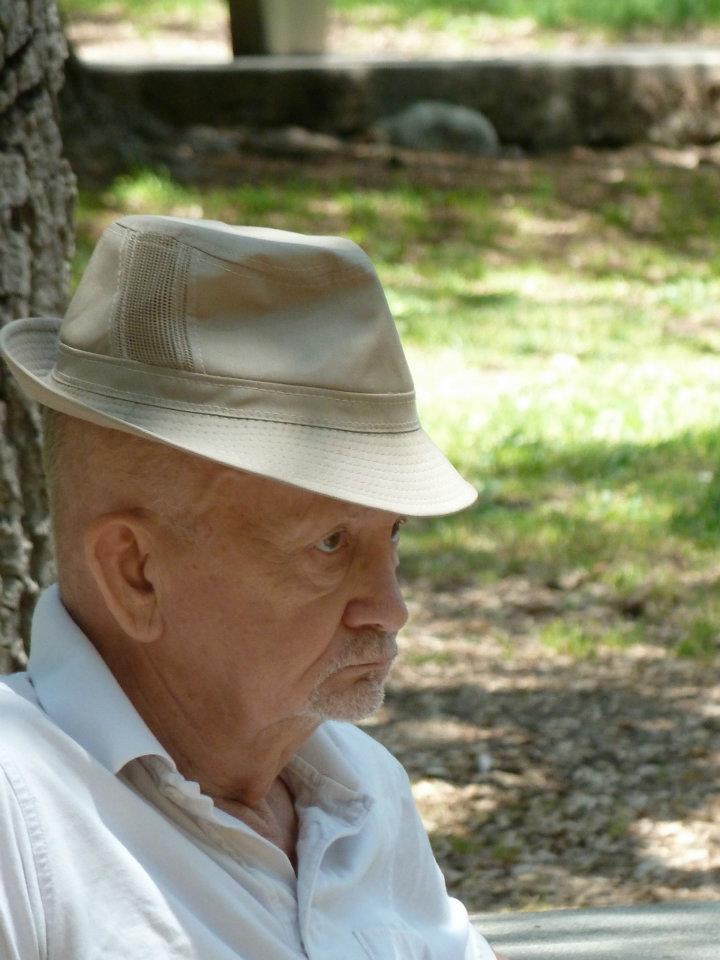 Mel at Temple of the Goddess 2012 Summer Solstice Ritual
(Photo by David Jacks)
My husband Mel had a good life. He lived for over 73 years. I met him when he was 27 and I was going to college in Kansas City, Missouri. In my off hours after school, homework, and a part-time job, I attended a Dojo taking Judo classes. Mel was working full-time, attending college in Kansas City, Kansas and taking Karate classes at the same Dojo.
If it hadn't been for that Dojo . . .
He was raised by his grandmother and grandfather on a farm where his grandfather broke horses, had a garden, and raised chickens, but still, was a city kid. He lived for a few years in Portland, Oregon, but spent most of his growing years in Lawrence, Turner, and Kansas City, Kansas with his half-sister Joyce (deceased). He is survived by a half-brother, Chuck Ramey, and a half-sister, Carol Darlene Pringle.
At Turner Junior High School he was a member of the Dramatics Class and took part in several plays, including Stage Door and Ten Little Indians.
Because the draft was in effect in 1958, Mel volunteered for the Army a month after he graduated from high school. Luckily for him this was a period of Peace. After Korea, and before the U.S. sent large number of troops to Viet Nam. He shipped out from New Jersey and spent his required time in Vicenza, Italy. He liked to tell how he managed to nab a job in the Administration Office. When he arrived in Italy, the camp was covered with cold, white snow. As soon as the bus stopped, a soldier stuck his head in the door. "Can anybody on the bus type?" It only took an instant for Mel to figure out that the typewriter would be inside and a lot of other camp chores would be outside. His was the first and only hand held high.
In his off hours he worked with the base theater group on Petticoat Fever and Stalag 17. He spent leave time in Venice, Italy, Munich and other various towns in Germany.
He lucked out again when his platoon was mustered out three years later. He was released, whereas others in his group were held over for possible deployment to Viet Nam.
When he returned to Kansas City, Kansas he worked at an optical supply company, taking a night class in, of all things, French Language. (Side note: he had many talents, learning another language was not one of them.)
When we met in June 1966 we decided fairly quickly to marry. We chose December and noticed that one of the Saturdays was the 31st. The more we thought about it, the more it sounded festive. The whole world is in a joyous mood, awaiting the bright future of the coming year.
Right from the start I asked him if he liked California (having lived there, and only coming back to Missouri in order to live at home and attend college full time, I was determined to move back to the Sunshine State). He said he didn't know, had never been there. I asked him if he liked snow. He said–very emphatically–"No". I said, "You'll love California."
We lived in Kansas City, Missouri for two years while I finished college, and we built a small bankroll to sustain us until we found jobs in California. Moving to Pasadena was a great move. Living near Colorado and Lake gave me a short drive to Jet Propulsion Laboratory where I worked as a chemist. Mel had a short walk to Pasadena City College where he attended classes in the day and worked in the Admittance Office at night. He earned enough credits for an AA degree.
After living for two years in Pasadena, we bought our house in Arcadia where we lived the remainder of our married years. While I worked at an agricultural chemical company, the G.I. Bill paid for Mel's schooling at California State University, L.A. where he obtained a B.S. in Business Administration (Finance).
The degree got him a job with LAUSD; Financial Manager at Pasteur Middle School, and then at Virgil Middle School. He spent twenty-seven years in his career before retiring in January 2005.
Shortly after retiring, we took a two week trip to Italy. Mel wanted to show me the Venice he remembered from the Army. Not surprising, Mel found that it looked the same as it did in 1961! He had planned the entire trip. Going on-line, he booked the plane tickets, hotel rooms, several museum admissions, and the train tickets to Florence, Rome, and then back to Venice. It was the first time I had ever been outside the States. The trip was perfect.
He had learned chess while in the Army and it continued to be an important avocation throughout the rest of his life. He joined the U.S. Chess Federation and the Arcadia Chess Club in 1999, became a player, then a Tournament Director (and treasurer) for the next fourteen years.
His interest in theater also continued his whole life, attending many plays (and dragging me to many musicals–however, he was fond of saying that I always ended up enjoying the plays/musicals he drug me to–true enough.) He enjoyed reading plays, too, subscribing to American Theatre in order to stay informed of the theater scene.
During his retirement years, he discovered he enjoyed cooking. He asked me if I minded him in my kitchen. My response was, do I look stupid? His specialty was gourmet meals, as opposed to my down home cooking. If I had any complaints about his cooking, it was that he enjoyed finding brand-new recipes and liked to cook meals we had never had before. I had to keep reminding him that sometimes he cooked something that I really, really loved, and would he perhaps cook it again? He would. He especially liked to host parties so he could research for and then prepare unusual appetizers and meals.
Except for the last two years where he underwent a triple-bypass and then four months later excision of part of his lung for cancer, he had a healthy life. He underwent chemo treatments for seven months where I believe he learned to trust others (doctors and nurses) by giving up his secrets to their intimate questions.
He did not call himself a Pagan, was on a different path than mine, but he learned to honor the decisions that I made on my path. He attended all Temple of the Goddess rituals and kept the ritual Give-aways in his bedroom. I believe he was proud of what Xia and I had created with the Temple.
On March 11th he passed over the Rainbow Bridge peacefully, in my arms. He was anointed and prayed over by Xia. We were priestesses to his embarking on the next phase of his journey.
I honor his life with my memories.